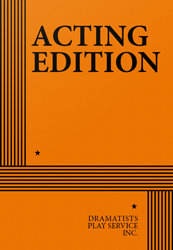 Full Length, Tragedy
6 men, 3 women
Total Cast: 9, Flexible Set
ISBN-13: 978-0-8222-2368-9

THE STORY: A theatrical explosion of myth and revolution, TOO MUCH MEMORY is a retelling of the classic Greek story of Antigone set firmly in the present. This inventive adaptation straddles a line between the classic Greek tragedy and modern storytelling. Children fight to break away from their parents' shadows; a trophy wife agonizes over her diminishing role in both public and private spheres; and soldiers required to obey their commander-in-chief reject their roles in the battle between order and unrest. At its heart the story is the same: Antigone defies the ruler Creon's law and her sister's pleas in order to give her brother, who has been labeled a traitor, an honorable burial. Caught in her attempt, Creon decrees that Antigone be buried alive, despite her engagement to his son, Haemon. Haemon kills himself and Creon's wife follows suit, leaving Creon to run an administration in shambles. A play about collective history, TOO MUCH MEMORY explores what this means as we try to revamp and refocus it.
"…vitally lucid update of Sophocles' Antigone. It's as if Laura Bush had suddenly emerged from the shadows at a presidential press conference, commandeered the podium and announced: 'I have something to say.'" —NY Times. "TOO MUCH MEMORY helps you remember why we do these bloody old tragedies, again and again." —Time Out NY. "The play successfully returns a sense of urgency to the theater. In an age of being bashed over the head with so-called facts, facts that often overlook the truth of the matter, facts that are given a spin to benefit who is speaking them, it is important that theater such as this be seen and discussed by as many people as possible." —OffOffOnline.com.