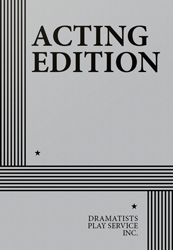 One Act, Comedy/Drama
4 women
Total Cast: 4, Interior
ISBN-13: 978-0-8222-0223-3


FEE: $40 per performance.
THE STORY: The time is 1955, the place a Missouri insurance company office on the hottest day of the year. It is lunchtime, and four women employees gather for their daily session of gossip and bridge. The senior member of the group, a wisecracking supervisor who is deferred to by the others, is scornful of an absent colleague, but affable towards the new employee who has volunteered to make a fourth for their game. As the cards are dealt, and sandwiches devoured, small talk abounds—leading, inadvertently, to the unsettling revelation that the man the "new girl" is presently engaged to was once the fiancé of the spinster supervisor. Subtly the mood changes: Pride of place is now suddenly challenged; the supervisor turns sharp and vindictive; the young employee is wary that she may have damaged her hopes for advancement; and the other ladies gloat over the glimpse into a past which, until now, their supervisor has kept safely hidden.
This prize-winning short play, which was successfully presented Off-Off-Broadway and also selected by Stanley Richards for his prestigious Best Short Plays series, deals hilariously with a lunchtime bridge game between four gossipy ladies who end up learning more about each other than was originally intended. "…it is refreshing, almost indeed shocking, to meet people so specifically alive on the stage." —SoHo News. "…an unflawed gem." —NY Post.