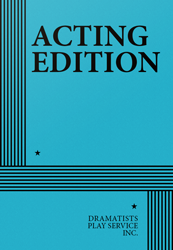 Full Length, Comedy/Drama
4 men, 4 women
Total Cast: 8, Flexible Set
ISBN-13: 978-0-8222-2386-3


MIN. PERFORMANCE FEE: $105 per performance.
THE STORY: IMPRESSIONISM is set in the small art gallery of Katharine Keenan, where she and her assistant, Thomas Buckle, have been hiding from a world that has shattered them. Thomas has been hurt by what he's seen behind his camera as a world-traveling photojournalist, and Katherine has been disappointed by incredibly failed relationships. Through gradually opening up to each other, they find that love is not always painted in the style of Realism, and they discover the art of repairing broken lives.
"Sit back and enjoy the play's brazen sweetness and openhearted humor." —The New Yorker.

"[IMPRESSIONISM] practices the art of romantic comedy with a nice mix of pathos, intellect, and wit." —Entertainment Weekly.

"Extremely funny and immensely touching." —Talk Entertainment.

"I enjoyed IMPRESSIONISM more than any other new play on Broadway this season." —NYTheatre.

"A mature, intelligent and witty play about love and art." —New Jersey Courier.