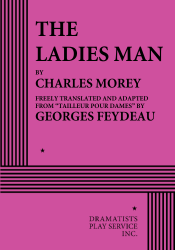 Full Length, Comedy
4 men, 4 women
Total Cast: 8, Flexible Set
ISBN-13: 978-0-8222-2389-4


MIN. PERFORMANCE FEE: $105 per performance.
THE STORY: In Belle Époque Paris, the recently married Dr. Hercule Molineaux tells "one, tiny, little, hardly noticeable lie" to cover an innocent but embarrassing indiscretion. From that single untruth tumbles a cascade of increasingly convoluted deceptions, misunderstandings and mistaken identities. Compounding Molineaux's troubles are a suspicious wife, a gorgon of a mother-in-law, an outrageously aggressive female patient, her violently jealous Prussian husband, a well-intentioned friend with a serious lisp, a valet with attitude, a maid with a secret and more slamming doors than realistic architecture should ever accommodate, all adding up to a hilariously zany and infectiously charming farce.
"…a most effective vehicle…an explosion of inspired craziness…I can't recall the last time I laughed so hard…" —Wall Street Journal.

"This shaggy poodle story…is Feydeau at his silliest…in which a maze lurks behind every door and cases of mistaken identity multiply like May-flies." —The New York Times.

"…delirious absurd madness…giving us the opportunity to laugh in abandon for two full hours…simply brilliant, a comic confection…Ohh la, la, I loved every minute of it." —Democrat and Chronicle.

"…a comic minefield…the marriage of a bourgeois doctor and his much younger wife endures a series of disasters, nudged at the start like a row of dominoes whose fall picks up speed through two hilarious acts…" —Indianapolis Star.

"A wickedly funny French farce…one of the funniest plays I have seen in years…this is as close to ROTFL (rolling on the floor laughing) as you will probably ever experience." —Berkshire Fine Arts.

"This is one comedy you won't want to miss…be prepared to laugh so hard your sides will hurt." —North Adams Transcript.

"…boils over with the classic earmarks of period farce…hilarious…a bona fide regional theatre blockbuster." —Salt Lake Tribune.