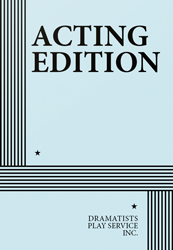 Full Length, Drama
2 men, 2 women
Total Cast: 4, Flexible Set
ISBN-13: 9780822223955

THE STORY: A taut drama exploring racial bias and the slippery path to justice. One summer night in Brooklyn, a sixteen-year-old boy is gunned down by the police. When the department closes ranks around the accused officer, an investigator assigned to the shooting takes what she knows to a tabloid reporter. But she quickly learns that the story she fed to the press is still only part of the truth. Alone, she must wade through prejudice, deceit, and a volley of anonymous threats to find where culpability and truth really lie.
"The author's passion is undeniable, giving THE RANT its dramatic power." —NY Times. "…keeps the audience riveted by a timely and incendiary situation, intrigued by provocatively nuanced dialogue and characters who resonate with the specificity of their reality." —CurtainUp. "THE RANT is a thought-provoking and engrossing play in which hot-button social issues and the people caught up in them are portrayed fairly and honestly…Author Andrew Case has brought a welcome breath of fresh air to American socio-political theatre." —Talkin' Broadway. "The moral dilemmas in THE RANT are awesome in their current relevance." —Broad Street Review (Philadelphia). "In Case's story there are no absolute truths. The characters' fears and life experiences influence their perceptions of what occurred…In his sharp new play, Case challenges us to examine how our own prejudices affect our most firmly held beliefs." —Philadelphia Weekly. "Case wants to make us wonder, wants us to assemble the pieces of a jigsaw puzzle without a prescribed final form." —Miami Herald. "…undeniably moving and thought-provoking…electrifying…a police officer's mea culpa that gets us as close to the truth as we're going to get." —South Florida Sun-Sentinal.