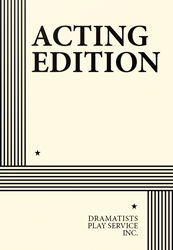 Full Length, Comedy/Drama
1 man
Total Cast: 1, Flexible Set
ISBN-13: 978-0-8222-2433-4


MIN. PERFORMANCE FEE: $105 per performance.
THE STORY: When conservative candidate Therm Pooley's criticism of Kerr's government-sponsored performance art lands him a Senate seat, Kerr seeks revenge. The centerpiece of Pooley's political career is his labrador retriever, Lucky, whose tricks ingratiate Pooley to voters. Kerr seeks to kidnap and retrain Lucky, but his attempt is foiled by a mysterious and supernatural transformation that brings him closer to Pooley than he ever imagined.
"Many surprises are in store for the audience, including, most refreshingly, a political story that can be appreciated by all viewers, no matter what their party affiliation…[Blessing's] very humorous and quirky tale [makes] us grateful for support for the arts and for the people who care enough to write about it." —Talkin' Broadway. "…the play really takes flight…a play with enough surprises to delight and amuse." —ArtsBeatLA.com. "…funny and incisive…" —CurtainUp.