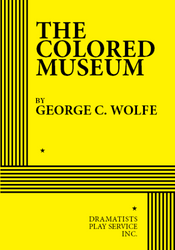 THE STORY: THE COLORED MUSEUM has electrified, discomforted, and delighted audiences of all colors, redefining our ideas of what it means to be black in contemporary America. Its eleven "exhibits" undermine black stereotypes old and new and return to the facts of what being black means.
"Mr. Wolfe is the kind of satirist…who takes no prisoners. The shackles of the past have been defied by Mr. Wolfe's fearless humor, and it's a most liberating revolt." —The New York Times.

"Brings forth a bold new voice that is bound to shake up blacks and whites with separate-but-equal impartiality. True satire." —Newsweek.

"If Wolfe's themes—of remembering the past and understanding stereotypes—are heavy, he wisely avoids didacticism in favor of lightness of tone. THE COLORED MUSEUM turns out to be a fun house." —Washington City Paper.