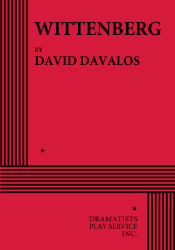 THE STORY: It is October 1517 in northern Germany. The beginning of another fall semester at the University of Wittenberg finds certain members of the faculty and student body at personal and professional crossroads. Hamlet (senior, class of 1518) is returning from a summer in Poland spent studying astronomy, where he has come in contact with a revolutionary scientific theory that threatens the very order of the universe, resulting in psychic trauma and a crisis of faith for him. His teacher and mentor John Faustus (professor, philosophy) has decided at long last to make an honest woman of his paramour, Helen, a former nun who is now one of the Continent's most sought-after courtesans. And Faustus' colleague and Hamlet's instructor and priest, Martin Luther (professor, theology), is dealing with the spiritual and medical consequences of his long-simmering outrage at certain abusive practices of the Church—the same Church to which he has sworn undying obedience. How these three men's sagas overlap and intertwine and how they end up irrevocably affecting the course of each other's lives is the substance of WITTENBERG, a comedy that reveals the story behind the stories of Hamlet, Doctor Faustus and the Protestant Reformation.
"…a crackling good bit of entertainment…bursts with a Stoppardian eagerness to tickle as it tangles with weightier issues…Hilarity, thy name is WITTENBERG." —The New York Times.

"[An] adorable, playfully anachronistic and unerringly affectionate academic satire, a sort of quadrangular Shakespeare in Love: It's a philosophy survey course and a non-smirking smartypants comedy all in one." —New York Magazine.

"…a delightful romp that's as accessible as it is thought-provoking. Tom Stoppard, eat your heart out." —New York Post.

"…the pace is zippy, the themes beautifully articulated and the overall sensation exhilarating…'To be or not to be' never sounded so entertaining." —Huffington Post.

"A cocktail of brainy allusions, absurdist plot twists, sly wordplay and disarming anachronisms, fortified with serious ideas, WITTENBERG should delight Tom Stoppard fans, recovering English majors, disillusioned academics and anyone who has ever wondered what Helen of Troy was like in the sack…WITTENBERG's chief assets are Davalos' light, confident handling of bona fide philosophical concepts and his archly virtuosic language…" —Washington Post.

"Finally—a decent Protestant Reformation comedy! Davalos' wordplay, plus his riffs on religion vs. philosophy, made me hanker for a script. The dialogue sometimes flies by…and it's obvious that WITTENBERG would be as much fun to read as this production is to see." —Philadelphia Inquirer.