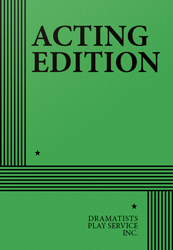 Full Length, Comedy
4 men, 3 women
Total Cast: 7, Flexible Set
ISBN-13: 978-0-8222-2459-4


FEE: $105 per performance.
THE STORY: A motley band of traveling commedia players in Renaissance Italy arrives in Naples just in time for the Feast of San Gennaro. The passions of the actors and the locals are ignited when lustful lovers romp through the town piazza seeking pleasure and discovering the many forms of love in this outrageously smart and bawdy comedy.
"Sublime…a miracle in itself…a grand time—crude, rude, and deliciously lewd." —Variety. "Fantastic…raunchy potent comedy." —Boston Herald. "Unbelievably clever…exquisite comic timing…you'll laugh so hard." —WGBH Radio.