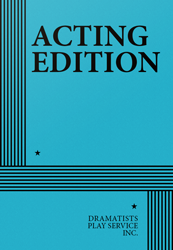 Full Length, Comedy/Drama
6 men, 3 women (doubling)
Total Cast: 9, Flexible Set
ISBN-13: 978-0-8222-2461-7


MIN. PERFORMANCE FEE: $105 per performance.
THE STORY: Ned Jenkins arrives at bucolic Humbert College in upstate New York hoping to achieve his life ambition to become a tenured college professor. Quickly embraced by faculty and students alike, this "golden boy" can't help making romantic and political missteps that complicate his life, threaten to sidetrack him from his goal, and divide the whole campus in the process. Through it all, he discovers that he may be an expert in philosophy and aesthetics, but he's a rank amateur when it comes to self-knowledge.