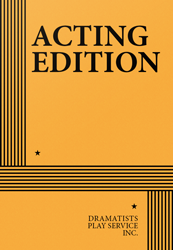 Full Length, Drama
3 men, 1 woman
Total Cast: 4, Flexible Set
ISBN-13: 978-0-8222-2466-2


MIN. PERFORMANCE FEE: $105 per performance.
THE STORY: Beyond the end of the word, where trees are dying and sunlight must not be allowed to touch human skin, three teenaged boys survive by reinventing a culture they never really knew. They cling to the shreds of civility by playing Daddy, Mommy and Junior, but the game has worn quite thin. And just when it seems that things can't get any worse, a stranger arrives with a terrible secret that changes everything. Named one of the ten best plays of 2009 by LA Weekly, TREEFALL is a tragicomic exploration of gender identity and the meaning of family.
"Visually and emotionally gripping. Effectively drives home its cautionary message about the environmental legacy we're neglectfully creating for future generations." —LA Times. "Achingly true…glimpses of humor. It's not unlike the kind of new play that used to emerge in the early years of London's Royal Court Theatre—grimy, primal, heady, despondent yet inexplicably giddy-making for the sheer truth of the ache in its heart." —LA Weekly. "Visceral wonderment…futuristic thriller." —BackStage. "Fascinating look at how a person comes to define his or her roles in life in relationship to gender. Murray has simultaneously crafted a story that avoids being swallowed by obvious impending darkness, and even manages to find hope in the most desperate of situations. Well done." —L.A. Splash. "Succeeds on every level." —Culture Spot LA.