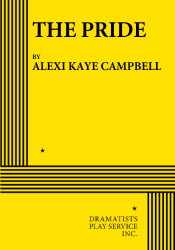 Full Length, Drama
3 men, 1 woman (doubling)
Total Cast: 4, Flexible Set
ISBN-13: 978-0-8222-2467-9


MIN. PERFORMANCE FEE: $105 per performance.
THE STORY: Alternating between 1958 and 2008, THE PRIDE examines changing attitudes to sexuality and the perennial themes of love, lust, and betrayal. In 1958, Philip is married to Sylvia but finds himself falling in love with another man. His refusal to acknowledge his true nature leads both him and the people he loves to a devastating conclusion. In 2008, Oliver is addicted to anonymous sexual encounters. Forced to make a choice between promiscuity and monogamy, he has to ask himself fundamental questions on the nature of intimacy and identity. Three characters exist in two different time periods and come to learn that even though social conventions may change, the pursuit of self-knowledge and true happiness remains as challenging as ever.
"Alexi Kaye Campbell's THE PRIDE marks the debut of a fledgling writer whose voice on this evidence is already astonishingly fully formed." —International Herald Tribune.

"This is a searching, moving, thoroughly grown-up play, and a remarkable debut from a writer from whom I am impatient to hear more." —The Telegraph (UK).

"Campbell's mature ability to grip audiences with subtly truthful disclosure is matched by his skill at construction. Marks the arrival of a serious new voice in theater and the debut of the year." —Variety.

"An illuminating, moving night of theatre." —Time Out London.

"A tremendously rich and uplifting new work." —Time Out New York.

"Intriguing…imaginative, well-crafted inside and out." —New York Daily News.