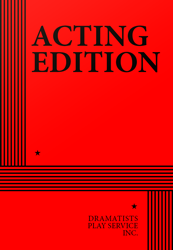 Full Length, Adventure
10 men, 9 women (doubling, flexible casting)
Total Cast: 19, Flexible Set
ISBN-13: 978-0-8222-2484-6

THE STORY: The great American novel comes to life in a thrilling new adaptation. Huck Finn flees the claws of "civilization" for the freedom of the mighty Mississippi, only to find himself running from mobs, getting shot at, stealing gold, digging escape tunnels and dressing as a woman. And perhaps his greatest adventure: unexpectedly finding his own moral compass in a world of corruption and hypocrisy. This timeless tale of friendship, laughter, and humanity is perfect for school productions, touring, and introducing a whole new audience to Mark Twain's definitive novel.
"The kids at Friday's school performance loved it. So will your kids…Coble's challenges were considerable. Twain's book is not a children's book, though it is propelled down the mighty Mississippi by boyhood adventuring. It is a book, often misguidedly banned from high-school libraries…about a young man's inner struggle to defy the morality of his time and to do the right thing: help his friend, a slave, to freedom. Coble had to get that onto the stage in a way that would engage rather than enrage his audience…[he] succeeds admirably." —Cleveland Plain Dealer. "A highly theatrical, cohesive whole…Coble's layered adaptation embraces Twain's exploration of race in nineteenth-century America and asks: 'What is the world telling you, and does that line up with what your heart is telling you—and how do you create a life between those two poles?'" —News-Herald.