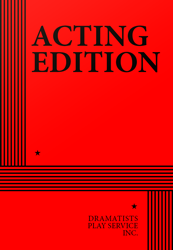 Full Length, Drama
1 woman
Total Cast: 1, Flexible Set
ISBN-13: 978-0-8222-2491-4

THE STORY: Dael Orlandersmith, combines theatre, poetry and music in a powerful, sizzling, fierce symphony of the diverse voices that make up her neighborhood—people drawn from both her life and her imagination. She introduces us to a range of characters—from an elderly Polish Holocaust survivor who has a chance meeting with Billie Holiday; to a poetic young junkie; to a teenage Puerto Rican punk; to a washed-up rock 'n' roll star; to a seventy-year-old New Yorker from Harlem heading to the West Village to see Nina Simone.
"…a short and—by Orlandersmith's hard-earned standards—sweet survey of the people she's bumped into in that city of sharp elbows…one cup of Orlandersmith is worth a gallon of what most other monologists serve up…Orlandersmith assumes the role here of wryly analytical onlooker who can absorb both the pathos and the irony unfolding all around her." —Washington Post. "[Orlandersmith] exquisitely captures the complications of return to a place, your place, which never really wanted you to leave, lest it reflect badly on itself…poetic but clear-eyed…evocative and carefully observed." —Chicago Tribune. "Orlandersmith is a consummate storyteller…her real achievement is to make you aware of the shape of language itself. How words rise and fall, become dense, then light, gently erotic, then tense with rage—like the architecture and energy of a city block." —LA Times.