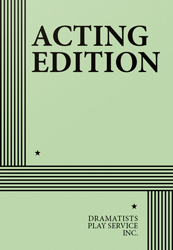 Full Length, Comedy/Drama
4 men, 2 women
Total Cast: 6, Flexible Set
ISBN-13: 978-0-8222-2499-0


MIN. PERFORMANCE FEE: $105 per performance.
THE STORY: Mother can't tell her identical twins apart. But when Otto announces his brother doesn't exist, the household descends into chaos. Tony Award® and Pulitzer Prize–winner Edward Albee is in top form with this dark, funny and moving play that takes sibling rivalry to existential heights.
"Anyone who sees Albee's [ME, MYSELF & I] should expect to have verbal vertigo for at least 24 hours after the show…a laugh-out-loud little farce in which the meanings of everyday words split and multiply like amoebas on steroids. That includes, by the way, all personal pronouns and proper names…This may be the work of an old master, but it pulses with the enthusiasm of a love-struck neophyte." —The New Yorker.

"It's as consistently humorous as it is purposefully enigmatic…[ME, MYSELF & I] appears to be coming from a deeply personal corner of self-analysis. It may also be seen and enjoyed simply as a loony comedy of fraternal conflict and familial discord as triggered by neurotic parental choices. Moreover, it is a clever consideration of how children might attempt to free themselves from the burden of being acceptable and easily defined." —CurtainUp.

"In its themes and its exaggerated theatricality, ME, MYSELF & I harks back to Albee's earliest works…startlingly hilarious." —Village Voice.