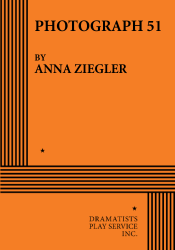 Full Length, Drama
5 men, 1 woman
Total Cast: 6, Flexible Set
ISBN-13: 978-0-8222-2508-9


MIN. PERFORMANCE FEE: $105 per performance.
THE STORY: A humorous and moving portrait of Rosalind Franklin, one of the great female scientists of the twentieth century, and her fervid drive to map the contours of the DNA molecule. A chorus of physicists relives the chase, revealing the unsung achievements of this trail-blazing, fiercely independent woman. A play about ambition, isolation, and the race for greatness.
"What playwright Anna Ziegler has achieved in her intriguing portrait of the British scientist Rosalind Franklin is a remarkable balance of scientific subject matter and theatrical storytelling…in a play that glows with intelligence and humanity…" —Backstage.

"In Ziegler's taut yet graceful script…Franklin's passion for science…shines through, as does the agility of her inquiring mind…PHOTOGRAPH 51 neatly coils a scientific detective story around a rumination on how sexism, personality and morality can impact collaboration and creativity…It honors Franklin by painting her as a complete person, with flaws and sterling attributes, and by evoking the thrills and risks of scientific pursuit itself." —The Seattle Times.

"It's a perfect science-history play, with all the hurtling momentum of a race towards discovery, all the step-by-step deductions, competition and backhanded betrayals." —Variety.

"My only complaint about Anna Ziegler's intriguing, informative 95-minute play is that it is not longer… What the play does is correct a historical injustice and ask, by implication, whether women are still sidelined in the scientific world…It proves that science is inherently dramatic and that the neglect of Rosalind Franklin's contribution to uncovering the secret of life remains a blot on our history." —The Guardian (US).

"Were [PHOTOGRAPH 51] simply to assert that Franklin was robbed of the prestige that was rightly hers…it would serve a valid but rather worthy purpose. It's much more fascinating than that, though. It deals with timely feminist issues but also the key fundamentals of how we relate to each other, who we are, our tragic flaws…Can one image tell us almost everything? Yes, it can. A triumph." —The Telegraph (UK).

"A beautiful, tender, and surprising play." —The Stage (UK).