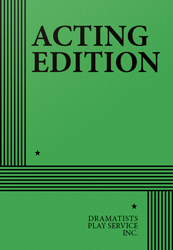 Full Length, Comedy/Drama
3 men, 3 women
Total Cast: 6, Flexible Set
ISBN-13: 978-0-8222-2515-7


FEE: $105 per performance.
THE STORY: Out with the old and in with the new. Across college campuses in the '70s, teachers and students engaged in a battle of their own—making education relevant. OFFICE HOURS tackles the Great Books curriculum and puts dead white men to the test.
"…congenial comedy…makes a gentle plea for the enduring worth of Homer, Dante, Shakespeare and the rest of the dear, derided DWMs as writers whose works illuminate everlasting problems of human life, even the lives of disgruntled feminists and deranged veterans of the Vietnam War." —NY Times. "…a fondly mocking look back at academic life during a seminal time in America's cultural history…literate and funny…Even if you never saw a slide-rule, you'll enjoy this often-amusing look at the ups and downs of beleaguered academics buffeted by the tides of a societal revolution." —Associated Press.