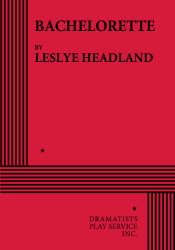 Full Length, Dark Comedy
2 men, 4 women
Total Cast: 6, Flexible Set
ISBN-13: 9780822225195

THE STORY: Ten years out of high school, Regan, Gena and Katie convene in the luxurious bridal suite of their old friend, Becky, the night before her wedding in New York City. Fueled by jealousy and resentment, the girls embark on a night of debauchery that goes from playfully wasted to devastatingly destructive. Their old fears, unfulfilled desires and deep bonds with each other transform a prenuptial bender into a night they'll never forget. A wicked black comedy about female friendship and growing up in an age of excess.
"…sensational…[a] vivid and entertaining play, as witheringly funny as it is bitterly sad." —NY Times. "Leslye Headland has squeezed so much fresh and potent juice from familiar frenemies turf with her dark comedy BACHELORETTE…scabrously hilarious, bracingly smart show." —NY Daily News. "The talented young playwright displays a gift for incisive characterizations and sharp, comic dialogue." —NY Post.