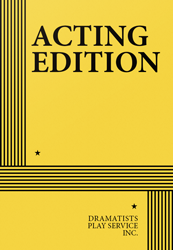 Full Length, Romantic Comedy
2 men, 2 women
Total Cast: 4, ISBN-13: 978-0-8222-2520-1


MIN. PERFORMANCE FEE: $105 per performance.
THE STORY: A crush can make anyone feel young again—even a widower named Ralph. On an ordinary day in a routine life, Ralph decides to take a different path on his daily walk—one that leads him to an unexpected second chance at love. Relying on a renewed boyish charm, Ralph attempts to woo the elegant, but distant, Carol. Defying Carol's reticence—and his lonely sister's jealousy—Ralph embarks on the trip of a lifetime, and regains a happiness that seemed all but lost. THE LAST ROMANCE is a heart-warming comedy about the transformative power of love.
"The boulevard comedy gets a shot in the arm with Joe DiPietro's THE LAST ROMANCE. Remarkably free of cliché…the golden-years love story casts a bewitching spell…it should enjoy a long life." —Variety. "The play adroitly explores relationships between men and women in their golden years, as well as how the invisible ties of family often tie our hearts harder and faster than any love affair. A tale that mixes heartbreak with its humor and opera with the laughter…For all the breezy throwaway jokes—and there is enough laughter to make even old age seem pleasurable—the central message about seizing life with a passion comes through loud and clear." —Naples News. "A tender romantic comedy." —San Diego Union Tribune. "You'll fall in love with THE LAST ROMANCE…The audience howls with laughter." —FloridaWeekly.com.