The Nature and Purpose of the Universe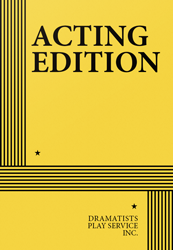 One Act, Comedy
7 men, 2 women
Total Cast: 9, Interior
ISBN-13: 978-0-8222-0341-4


MIN. PERFORMANCE FEE: $40 per performance.
THE STORY: Centers on a week in the beleaguered life of Eleanor Mann, housewife and mother, who lives with her religious fanatic husband and three sons; the oldest a pimp and dope pusher; the middle son a flagrant homosexual; and the youngest the victim of a threshing machine accident which has deprived him of his manhood. The family becomes embroiled in a plot to assassinate the Pope, who is coming to New Jersey to bless the air, and with the help of a radical black nun succeeds in its purpose—with unexpectedly hilarious results.
An outrageously funny absurdist comedy, by one of our theatre's most inventive and important writers, hilariously dealing with the topic of blind religious faith and the dilemma this can present to the American family.

"…A marvelous blend of outrageous parody and black humor." —Backstage.

"…A hilarious show written in the form of a radio play within a play." —Wisdoms Child.