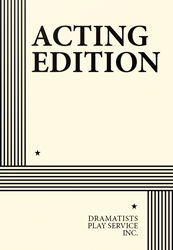 Full Length, Comedy/Drama
4 men, 2 women
Total Cast: 6, Flexible Set
ISBN-13: 978-0-8222-2523-2


MIN. PERFORMANCE FEE: $105 per performance.
THE STORY: Alejandro Arroyo owns the newest (and cleanest) lounge in New York City's Lower East Side. His sister, Molly, has a nasty habit of writing graffiti on the back wall of the local police precinct. Officer Derek is a recent NYC transplant with something to prove. Lelly Santiago is a socially awkward college student who may have discovered that the Arroyo siblings' late mother was one of the founders of hip-hop music. Two DJs/narrators/Greek chorus members spin the story in this hip-hop theater coming-of-age story.
"A sweet, loose-limbed shout out to Manhattan's Lower East Side…With a Greek chorus of DJs who 'mix' the play right in front of us, WELCOME shows that hip-hop can still goose mainstream theater instead of merely filling the diversity slot…The show's exuberant vibe becomes so infectious, it's easy to forget this is a story about two siblings recovering from the recent death of their only parent…In WELCOME TO ARROYO'S the playwright creates a space for all audiences, young or old, of any color, to kick back and play." —LA Times. "Sometimes you can believe the hype…the play blends streetwise exuberance with deep melancholy undercurrents." —Time Out NY. "A personal, charming, clever play with a hip-hop bent…this work demonstrates a genuinely honest voice, an energetic, playful theatricality…solid storytelling rooted in character. [Diaz is] an extremely welcome voice in American theater." —Variety. "A geeky brilliance and an unexpected wave of rousing feminism lives at the heart of WELCOME TO ARROYO'S…an urban comedy that dares to place women at the birth of modern-day hip-hop." —NewcityStage.com.