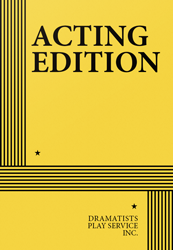 Full Length, Comedy
7 men, 5 women
Total Cast: 12, Flexible Set
ISBN-13: 978-0-8222-2525-6

THE STORY: Cynthia Karslake is a freewheeling divorcee in 1906 New York City society. She has decided to settle down again into a much more stable, reliable relationship with the prominent Judge Philip Phillimore. Little does she know, however, that neither of their bombastic and blowsy ex-spouses, nor her beloved racehorse Cynthia K is yet down for the count. In this sharp-tongued comedy, David Auburn enlivens and enriches a little-known play from a century ago, and shines a surprisingly contemporary light on social mores, status and attitudes about sex and divorce in high society.
"Auburn has crafted a dandy little work…He's done more than adapt Mitchell's play; he's essentially rebuilt it from the ground up." —Entertainment Weekly. "…slimmer, faster and lighter on its feet than the original…[the] use of frivolous form to pursue Puritan objectives makes THE NEW YORK IDEA fascinating." —NY Times. "…those with a taste for period comedy should thoroughly enjoy themselves…there's no doubt that Auburn's adaptation is a much sturdier piece of work than Mitchell's original…the play's most salient feature is what it reveals about the mores of its day." —BackStage. "Pulitzer Prize–winning playwright David Auburn highlights all of the tropes of screwball comedy that audiences love." —NY Press.