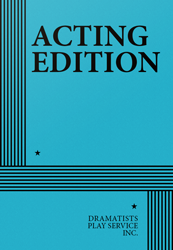 Full Length, Drama
2 men, 1 woman
Total Cast: 3, Flexible Set
ISBN-13: 978-0-8222-2542-3


FEE: $105 per performance.
THE STORY: Subtitled "a political fantasy," the play shows George W. Bush on the verge of turning himself over to the International Criminal Court in the Hague for illegal acts committed during his presidency. He spends his last night of freedom in the penthouse of a five-star Dutch hotel with a view of the sea. Keeping him company are Piet, a high-level hotel employee, and Anna-Lisa, a beautiful and mysterious younger woman. George's anxiety about tomorrow causes him to vent eight years' worth of angers and frustrations, indulge in an orgy of self-justification and…party like he was back at Yale. Throughout the night, Piet and Anna-Lisa accede to his every whim, even as their reasons for doing so grow more and more disturbing.
"Whether you fall into the 'pro' or 'no' column when it comes to George W. Bush, the setup for WHEN WE GO UPON THE SEA…is bound to spark an immediate response." —NY Daily News. "…it's about power and servitude, God and his absence, and what we allow to step in and fill the void…the playwright implores Americans to take to the helm while our own shores are still relatively calm." —Philadelphia Inquirer. "Blessing has plenty of fun with 'George,' as he calls him, but he points a darker finger at the rest of us, Americans and Europeans alike…whose hands are clean enough to judge?" —Broad Street Review.