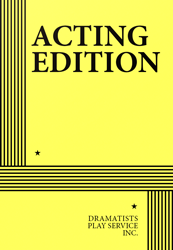 One Act, Comedy/Drama
1 man, 2 women
Total Cast: 3, Flexible Set
ISBN-13: 978-0-8222-0157-1


FEE: $40 per performance.
THE STORY: Deals with the encounter between a cynical, sophisticated New York antiques dealer and the taciturn young man, her nephew and house guest, who has come to the city to study theology. As reticent and unemotional as his aunt is loquacious and brittle, the young man contends that he has undergone a mystical experience—a revelation which is as unsettling to his aunt as it is fulfilling to him. As though intimidated by his inscrutable reserve, she grows increasingly voluble, revealing in her wise-cracking chatter the defense which she has constructed to keep the world at bay—and to mask the innate sensitivity and idealism which persist despite the loneliness and futility of her existence.
Presented Off-Broadway by the renowned Circle Repertory Company, this remarkable short play moves with quick and unerring precision to find the truth behind what is spoken by its two central and opposing characters. "…a giant of a one act play." —NY Times. "…proves once again that Lanford Wilson is probably our greatest functioning American playwright." —NY Daily News. "…both impressive and important." —Village Voice.