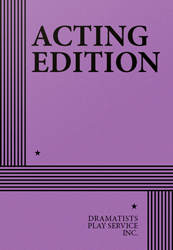 One Act, Comedy/Drama
1 man, 1 woman
Total Cast: 2, Interior
ISBN-13: 9780822205326

THE STORY: The scene is a private dining room in a restaurant overlooking Lake Quannapowitt, the occasion the seventy-fifth reunion of a high-school class—of which only two members remain. Now in their nineties, the two, Arthur "Cookie" Silverstein and Amy Chamberlain, don't remember each other at first, but, as they review their memories and recall old friendships, the past begins to clarify and emerge. Touching, funny and revealing, the play captures the sweep of long life, and the sense of how significant, in our later years, are the decisions and actions at which we arrive so casually in our youth.
One of the four plays comprising The Quannapowitt Quartet. A delightfully amusing and touching play, which recounts the reunion of two high school classmates seventy-five years after graduation. "THE 75TH is a wonderfully tender salute to old age." —Milwaukee Sentinel. "…rich, provocative language." —Denver Post.