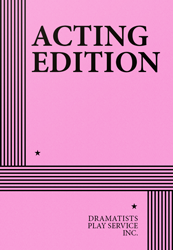 One Act, Short Play
14 men
Total Cast: 14, Flexible Set
ISBN-13: 978-0-8222-1372-7


MIN. PERFORMANCE FEE: $40 per performance.
THE STORY: JESUS ON THE OIL TANK. From New York Playwrights Lab, winner of the 1991 21st Century Award for Best Play. Inspired by an actual event, when the image of Jesus Christ mysteriously appeared on the side of a soybean oil tank, sending a small rural community reeling. Many of the town believed the image was fake—nothing but rust, while many more rushed to experience the image in a religious fervor. Centering on the battle between the soybean oil magnate, Rivers, whose tank was blessed with the image, and his jealous competitor, Campbell, the play explores the very nature of what it is that human beings need and what they believe in. This highly imaginative play ends with a shocking act of which only human beings are capable.
"[Mr. Sherman] is gifted with an empathy that extends beyond his gender and 25 years." —New York Daily News.