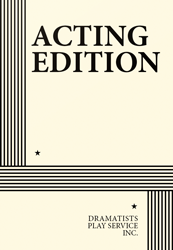 One Act, Comedy/Drama
5 women (or can be divided between men and women)
Total Cast: 5, Interior
ISBN-13: 9780822206262

THE STORY: The action is set in the laboratory of the American Biological Association Development for the Advancement of Brain Analysis, where curious experiments involving various mammals are taking place. Helen, a newly engaged cleaning lady, is particularly drawn to a dolphin and is shocked when she learns that, having failed to "talk" as hoped for, it is slated for brain dissection. She makes a desperate attempt to rescue the dolphin from the scientists, incurring first their indignation and then, when the dolphin does indeed "talk" for Helen, their futile pleas that she change her mind about leaving and stay on to help them in their experiments. But the gentle Helen has had enough—both of "Custodial Engineering" and of schemes to change man's relationship to the other creatures with whom the world must be shared.
Both touching and humorous, this delightful play earned wide recognition in its National Educational Television (NET) Network production.