Neighbors (Jacobs-Jenkins)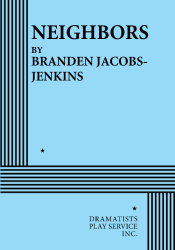 THE STORY: Have you seen the new neighbors? Classics professor Richard Patterson is not happy. The family of black entertainers that has moved in next door is an embarrassment—loud, raucous, tacky, and shameless. They're not just taking over the neighborhood—they're infiltrating his perfect, interracial family and his perfect, post-racial sanity. In its scathing exploration of denial and satire of black entertainment from minstrelsy to hip-hop, NEIGHBORS is a shocking, explosive, and wildly theatrical play.
"…audacious, fitfully stunning…Jacobs-Jenkins invents a theatrical conceit sure to baffle and enrage…it's exciting to hear a new voice that is by turns silly and profound." —Time Out New York.

"Mr. Jacobs-Jenkins has talent…effective comic writing…daring conceit." —The New York Times.

"Part deconstructed minstrel show, part family drama and a sharp retelling of Euripides' Iphigenia at Aulis, Jacobs-Jenkins' tragic farce has more energy and ideas than half a dozen anodyne 'issue' plays…Jacobs-Jenkins knows that rage plays best as savage humor, and he takes us to excruciatingly awkward places—and then leaves us to fend for ourselves…Messy, bold, desperately funny, and deeply felt: NEIGHBORS is worth getting to know." —Los Angeles Times.