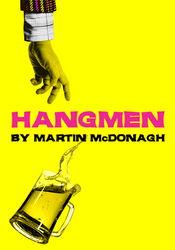 THE STORY: It's 1965, and the death penalty has just been abolished in the United Kingdom. Naturally all of Oldham, northern England, wants to know what Harry, the second-best hangman in the country, has to say about it. As the news breaks, Harry's pub is overrun with locals and reporters looking for a quote, until a visitor arrives with a darker and more mysterious agenda.
"…ruthlessly funny…locates belly laughs amid an unfolding atmosphere of menace…McDonagh suggests that humankind's capacity for violence exists well beyond the state sanction (or not) of capital punishment." —The New York Times.

"HANGMEN is a thoroughly great play…riveting from start to finish. Almost every line is laugh-out-loud funny, every moment filled with dramatic tension." —The Sunday Times (UK).

"…pitch-perfect…this look back in sharp-eyed wonder at the grimmer side of the swinging sixties doesn't loosen its grip…[McDonagh] takes you brilliantly, without any crude coercion, to the heart of serious questions about justice and punishment—and the fallibility of the way we reach verdicts." —The Telegraph (UK).