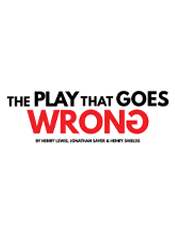 THE ONE-ACT PLAY THAT GOES WRONG is also available and is ideal for school performances! This version uses a one level, unit set and has a shorter running time of 75 minutes.
Find the full length High School Edition here.
THE STORY:
From Mischief, Broadway masters of comedy, comes the smash hit farce. Welcome to opening night of the Cornley University Drama Society's newest production,
The Murder at Haversham Manor
, where things are quickly going from bad to utterly disastrous. This 1920s whodunit has everything you never wanted in a show—an unconscious leading lady, a corpse that can't play dead, and actors who trip over everything (including their lines). Nevertheless, the accident-prone thespians battle against all odds to make it through to their final curtain call, with hilarious consequences! Part Monty Python, part Sherlock Holmes, this Olivier Award–winning comedy is a global phenomenon that's guaranteed to leave you aching with laughter!
"…an unexpected, gut-busting hit…one of those breakneck exercises in idiocy that make you laugh till you cry…It starts off punch-drunk and just keeps getting drunker." —The New York Times.

"…tremendously silly, and brilliant…a two-hour explosion of physical comedy, malapropisms, and knockabout satire." —The Daily Beast.

"…hilarious…nonstop pandemonium…THE PLAY THAT GOES WRONG is just right: a ridiculously entertaining disaster." —Entertainment Weekly.

WHAT THE COMMUNITY IS SAYING:
"Audiences were in pain from laughing too hard. An absolute success." —Sarah K., Director, Pull-Tight Players (TN).