Notes from the Field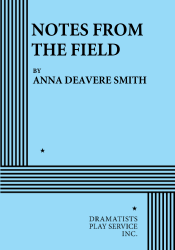 THE STORY: Based on real accounts from students, parents, and faculty, this one-woman show spotlights the stories of those caught in America's school-to-prison pipeline. NOTES FROM THE FIELD investigates a justice system that funnels young people from poor communities into the ubiquitous prison industrial complex. Inspired by over two hundred and fifty interviews with people living within this system, Smith's documentary piece both fosters awareness and galvanizes audiences to seek tangible change.
Winner of a 2017 Special Citation from the Obie Awards and the Lucille Lortel Award for Outstanding Solo Show.

"…wonderfully energizing… Ms. Smith draws us into an ever-mutating, ever-expanding discussion. What the discrete people she brings to life here have in common is an awareness of the existential trap into which ethnic minorities fall in this country, often irretrievably. …[Smith] wants to leave us with a spark of hope… It seems…safe to say, though, that she also wants us to leave angry, and restless, and aware that the conversation being conducted isn't anywhere near completion." —The New York Times.

"…audacious and mind-opening… [Smith's] probing intelligence and fair-mindedness retain a tangible presence, assembling the monologues like puzzle pieces to form a larger picture… the playwright-performer holds out for the possibility of positive change through a combination of compassion, resources and discipline. She holds her subjects in a tough but loving embrace." —Time Out New York.

"In NOTES FROM THE FIELD, Anna Deavere Smith has created one of her most ambitious and powerful works… stunning… [The play] leaves audiences with the echoes of unforgettable voices caught in a truly rigged system." —Variety.