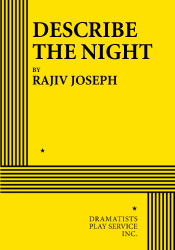 THE STORY: In 1920, the Russian writer Isaac Babel is a war correspondent with the Red Cavalry. Seventy years later, a mysterious Stasi agent spies on a woman in Dresden and falls in love. In 2010, an aircraft carrying most of the Polish government crashes in the Russian city of Smolensk. Set in Russia and East Germany over the course of ninety years, this thrilling and epic play traces the stories of seven people connected by history, myth, and conspiracy theories.
"…dense and fascinating… a play about stories, beginning in historical fact and spinning outward…" —New York Magazine.

"…[a] brilliant play… The play is its own vivid, perfectly paced patchwork of memory, lies, and revelations." —The Daily Beast.

"…Joseph weaves a compelling narrative from the yarn of bespoke reality… DESCRIBE THE NIGHT is much more than an engrossing tall tale, however: It heroically wrestles with the slippery nature of truth itself, and unnervingly demonstrates why its alternatives are so seductive." —TheaterMania.