The Hard Problem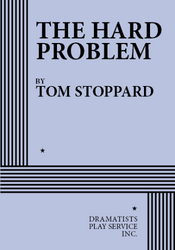 THE STORY: Hilary, a young psychology researcher at the Krohl Institute for Brain Science, is nursing a private sorrow. She needs a miracle and prays daily for deliverance from a secret regret. Meanwhile, she and the other researchers at the institute are grappling with the troubling "hard problem," which asks: If there is nothing but matter, what is consciousness? For Hilary, the possibility of genuine human altruism, without a hidden Darwinian self-interest, depends on the answer.
"One of the best things Stoppard's given us… Stoppard has spun a concise piece of storytelling full of thought-provoking twists… THE HARD PROBLEM tells its tale with elegant economy and a fitting regard for the role played by love in the working out of man's fate…" —Wall Street Journal.

"…an intellectually charged piece that delights in the slippery nature of language and pulses with interesting ideas." —Evening Standard (London).

"…absorbing. …a rich, ideas-packed work that offers a defence of goodness whatever its ultimate source. …Stoppard's play may not solve the hard problem of human consciousness. But it offers endless stimulation and represents, like so much of his work, a search for absolute values and a belief in the possibility of selfless virtue. For all his reputation as a cerebral writer, Stoppard has a strong faith in the power of the irrational." —The Guardian (UK).

"…rangy curiosity, emotional wisdom, and under-the-patter humanity… [THE HARD PROBLEM's] ideas are…rich and varied… Stoppard's writing feels alive and engaging as ever. …The playwright's ideas, in all their multiplicity and inquisitive vivacity…sparkle…" —New York Magazine.