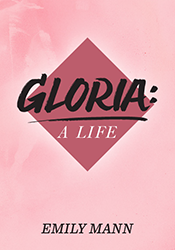 THE STORY: Decades after Gloria Steinem began raising her voice for equality and championing the voices of others, her vision is as urgent as ever. In this exploration of the iconic feminist's legacy, the first act tells her story, and the second invites the audience to share their own. GLORIA: A LIFE embodies Steinem's philosophy that conversation is a catalyst for change as it celebrates one of the most inspiring women of our time.
"GLORIA: A LIFE isn't a straightforward bio-play. It's a unique, deeply moving performance created in the hopeful, conversational spirit of its extraordinary subject, an act of looking back in order to look forward, and…a vital education. …In a way, GLORIA isn't just a life: It's an acknowledgement and celebration of many lives, dozens of brilliant, tireless women whose years and years of work hold us all up…" —New York Magazine.

"…potent, informative, emotionally riveting and ultimately uplifting…" —BroadwayWorld.

"…a stage experience that's one part theater, one part consciousness-raising group therapy session. …[an] intimate recollection of Steinem's journey…its particular bent [is] the public's introduction to Gloria, the girl, rather than Gloria, the icon, and its emphasis [is] on amplifying the experiences of its audience." —Vogue.