On the Razzle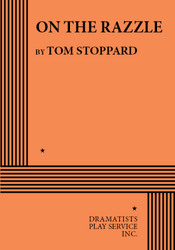 Adapted from Einen Jux will er sich machen by Johann Nestroy

THE STORY: Two naughty grocer's assistants go on a wild spree to Vienna when their master skips town with his new mistress. A free adaptation of the nineteenth-century farce by Johann Nestroy, ON THE RAZZLE is a boisterous reimagination of a time-old classic.
"While preserving the beautiful intricacies of this construction, Stoppard has embellished RAZZLE with a dazzle of verbal wit an unremitting firework display of puns, crossword puzzle tricks and sly sexual innuendos." —The Telegraph (UK).

"Apart from Jumpers and The Importance of Being Earnest there may be no script in English funnier than ON THE RAZZLE." —London Observer.

"ON THE RAZZLE is an older British term for what we in the colonies would translate as 'partying down.' Playwright Tom Stoppard has stated that his 'primary concern is to make the tale as comic an entertainment as possible.' Stoppard's farce consists of two hours of slapstick shenanigans, mistaken identities, misdirected orders, malapropisms, double entendres, and romantic complications. There is no great earthshaking social message here, just impossible situations, incredible physicality, and loads of laughs." —BroadwayWorld.

"Tom Stoppard has always balanced his lambent intellectualism with a certain cheeky playfulness, all the while toying with conventional notions of dramaturgy and breaking new ground in the theatrical form. In ON THE RAZZLE, first produced in the early 1980s, Stoppard gleefully abandons any pretense of intellectual heft. A no-holds-barred farce, [RAZZLE] combines Stoppard's typically deft wordplay with groan-worthy puns of a notably naughty stripe." —Los Angeles Times.