Moscow Moscow Moscow Moscow Moscow Moscow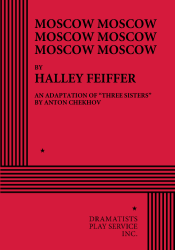 THE STORY: Ever since their brother Andre gambled away the family fortune, Olga, Masha, and Irina have been doomed to the boredom of the Russian countryside. One day soon, they hope, they'll return home to Moscow and live the exciting lives they were always meant to have. When the military comes to town, bringing with them variety, entertainment, and a whole lot of chaos, Moscow feels closer than ever and it seems the sisters' luck is about to change. In this contemporary twist on Chekhov's Three Sisters, one delightfully dysfunctional family navigates the absurdity of class, culture, and love.
"Feiffer grabs Chekhov's masterwork by the ears and yanks it right up into our faces." —Time Out NY. "How much has the heart changed in the past century or so? Hardly at all, according to Halley Feiffer's antic and sneakily affecting [MOSCOW…]. The play is at once a rude millennial reboot and a fairly faithful adaptation of Chekhov's Three Sisters…Irreverence can be a form of homage, and [Feiffer] gets cheeky with Chekhov's delicate realism, sending up his habits of exposition and repetition, along with his play's central conceit." —The New Yorker. "…never have the three Russian sisters been so funny funny funny… Imagine if Carol Burnett had eschewed vintage movies on her old TV series and taken on Chekhov instead…A breathtaking 95 minutes." —The Wrap. "…the crafty show feels intimate and familiar. And did we mention fun?" —Variety.