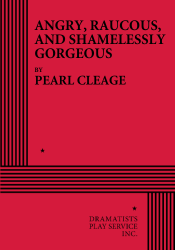 THE STORY: A lifetime ago, actress Anna Campbell and manager Betty Samson ignited a major theatrical controversy with a performance of monologues from August Wilson's Fences that came to be known forever as Naked Wilson. After decades of self-imposed exile in Amsterdam to escape the critics, they receive an invitation to perform the show at a women's theatre festival promising to be "angry, raucous, and shamelessly gorgeous." Uncertain of what kind of reception she will get, and unmoved by Betty's reassurances, Anna's insecurity grows when she meets Pete Watson, the ambitious young performer who has been chosen to replace Anna in the role but whose theatrical experience is so far limited to the adult entertainment industry. Searching for common ground, Anna and Pete must confront their ideas about themselves and each other as they reconcile two vastly different worldviews. With humor and grace, Pearl Cleage finds a meeting place where both women can not only find each other, but make peace with a few lingering ghosts just in time for opening night.
"[ANGRY, RAUCOUS, AND SHAMELESSLY GORGEOUS] is glorious. …[Cleage] writes characters that pop off the page and seemingly spring to life fully formed. Her women are multi-dimensional, likable even when not being very likable, filled with a full palette of reaction, emotion, and idiosyncrasy. …[The play] is a beautifully realized piece, a script that celebrates the joys and heartbreaks of a life in the theatre, and a brilliant homage to mentoring, to passing the torch, to allowing a legacy [to] have a life of its own, to having the courage to say to the young one who replaces you, 'I hear you! I love you! Godspeed!'" —Theatre Buzz Atlanta.

"[Cleage] continues to dazzle us… [ANGRY, RAUCOUS, AND SHAMELESSLY GORGEOUS] was AMAZING." —Roamilicious.