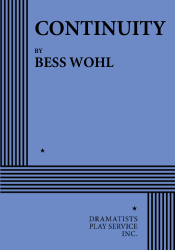 Purchase a manuscript copy of Continuity, via ePUB format.
Click here.
THE STORY:
It's magic hour in the New Mexico desert as an exhausted film crew races against the setting sun to shoot their blockbuster (but artsy) action movie, which takes place on an arctic (Styrofoam) ice floe, and features an eco-terrorist plotting a bombing mission to save all of humankind (supposedly). As the clock ticks and the desert sun beats down on the not-so-frozen landscape, personalities clash, artistic vision meets Hollywood demands, and the gap between fiction and science grows wider than ever. A dark but hilarious "play in six takes," CONTINUITY interrogates the role of storytelling in a world on the brink of actual environmental crisis.
"…smart, funny, and deeply sad…Wohl's dialogue is sharp and sprightly, confident and fluid through both the casual banter and the leaps into big emotions and ideas…The power of CONTINUITY is that it lets these questions proliferate without, as a piece of theater, becoming either strident or floppy and overwhelmed. It's got a huge sadness and a huge terror inside it—it's walking gut-twistingly close to despair—but it's also got integrity, vitality, and compassion for its characters." —New York Magazine.

"Wohl continually manages to upend our expectations—both about the movie-within-a-play and about the dynamics among these classic Hollywood 'types'…Wohl's script…has iceberg-like depths beneath all its surface pleasures…" —The Wrap.

"At once thought-provoking and hilarious, CONTINUITY is everything a 'political' play should be—articulating a point of view with respect for the audience while also challenging the audience, expanding worldviews, and tackling urgent questions about our existence." —Stage Left.