The Half-Life of Marie Curie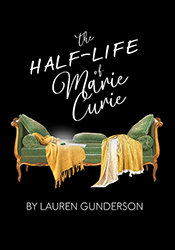 THE STORY:
In 1911, Marie Curie won the Nobel Prize in Chemistry for her discovery of the elements radium and polonium. By 1912, she was the object of ruthless gossip over an alleged affair with the married Frenchman Paul Langevin, all but erasing her achievements from public memory. Weakened and demoralized by the press lambasting her as a "foreign" Jewish temptress and a homewrecking traitor, Marie agrees to join her friend and colleague Hertha Ayrton, an electromechanical engineer and suffragette, at her summer home in England. THE HALF-LIFE OF MARIE CURIE revels in the power of female friendship as it explores the relationship between these two brilliant women, both of whom are mothers, widows, and fearless champions of scientific inquiry.
Included in
Broadway Book Club's Women's Voices Specialty Collection
"It's rare to classify a show as both fun and educational, but Lauren Gunderson's THE HALF-LIFE OF MARIE CURIE is just that—a 90-minute slice of history brimming with wit and wisdom, powered by two turn-of-the-20th-century female STEM stars." —New York Stage Review.

"A frisky, feminist crowd-pleaser, THE HALF-LIFE OF MARIE CURIE radiates empowerment—which is fitting, since it centers on the woman who coined the term radioactivity. …enlightening and entertaining." —Time Out New York.

"Written with insight, passion, and humor… [a] masterful script… With its engaging biographical narrative and timely historical message, THE HALF-LIFE OF MARIE CURIE will surely cement Gunderson's reputation as the number one produced playwright in the US." —DC Metro Theater Arts.