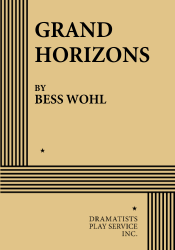 THE STORY: Fifty years into her marriage to Bill, Nancy wants a divorce. While her husband seems unfazed by the decision, her two adult sons are shaken to the core, forced to reexamine everything they thought they knew about their parents' outwardly happy lives. As the family grapples with their new reality, each must reckon with their own imperfect past and how their love for each other might express itself in new and unlikely forms.
"…[a] clever truth bomb of a play…[a] terrific comedy…I swooned for GRAND HORIZONS, which for all its plot about a marriage's unforeseen implosion has another matter urgently on its mind…Wohl's play is a powerful argument for the full humanity of women in our culture—a matter that's not as settled as we might like to think." —The New York Times.

"…GRAND HORIZONS is a sweet, sweet delight…[It's] extremely funny, while also asking a few tart questions about comedy itself." —New York Magazine.

"…playwright Bess Wohl nails the [family] genre beautifully with GRAND HORIZONS, which…provides two hours of solid laughs (including some pretty high peaks of riotous guffaws) while quizzically pondering issues of love and marriage." —BroadwayWorld.

"…a supremely funny comedy of marital malaise…GRAND HORIZONS is that rare animal, a smart but crowd-friendly Broadway comedy, one that does not pander to the audience, and finds twisty new paths through familiar pastures." —Broadway News.