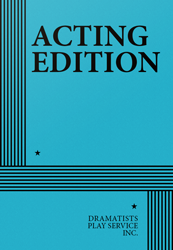 One Act, Comedy
1 man, 2 women
Total Cast: 3, Flexible Set
ISBN-13: 978-0-8222-4193-5


FEE: $40 per performance.
THE STORY: Years after a messy breakup, Eve and Gideon reunite. What could go wrong? Possibly everything. A comedy about mixed signals and bad internet, loneliness and autonomy. And one very precocious high schooler.