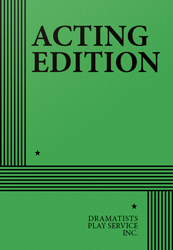 One Act, Drama
9 men, 4 women, chorus of men and women
Total Cast: 13, ISBN-13: 978-0-8222-0794-8

THE STORY: THE MUTILATED, as described in Variety, "is about a pair of alternately friendly and quarrelsome floozies in a fleabag hotel in the French quarter of New Orleans in the 1930s. Margaret Leighton plays the one who has inherited an income just sufficient to give her pretensions and keep her supplied with wine. Kate Reid plays a raucous hag just out of jail on a shoplifting charge. The would-be genteel lady is morbidly sensitive about being physically mutilated, having had a breast removed. Her harpy companion, Williams seems to be saying, is spiritually deformed, having suffered the cruelty of fellow humans. The implication is that all of us are maimed in some form or other. The play is written as a sort of Christmas parable, with a chorus of incidental characters singing hymns resembling carols. To project the idea further, the final scene presents the embattled cronies reunited in friendship and happiness, believing the Virgin has entered the room. Perhaps the moral is that love conquers mutilation."
Produced on Broadway as a double bill with THE GNADIGES FRAULEIN under the omnibus title of SLAPSTICK TRAGEDY. A haunting, compassionate study of the lonely and maimed of this world, and the painful adjustments which they must make in reconciling themselves to what life offers them. "…the humiliated poetry of past-due pride at which the playwright excels." —NY Herald-Tribune. "…it is sharpened time and time again by swift lines." —NY World-Telegram & Sun. "…it has some of Mr. Williams' compassionate understanding of the lost and doomed." —NY Post.