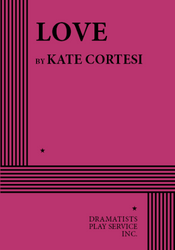 THE STORY: When Penelope is asked to join a group of women making harassment allegations against her former boss, she finds herself at an uncomfortable crossroads—the man accused was indeed a former lover and remains a dear friend. As the other women's stories unfold, however, Penelope begins to question what happened to her, what she enabled, and her very identity. LOVE explores the quandary of reconciling our past selves with the current moment, and dares us to place love at the center of these reckonings.
"Wonderfully sharp, poignant, and funny in all the right places…There's a lot of resonant truth-telling." —Marin Independent Journal.

"…a clever examination of sexual abuse…challenges the black and white image of right and wrong by adding in heavy shades of grey." —BroadwayWorld.

"LOVE examines the uncertainties…by drawing and redrawing the unsteady lines of power dynamics related to gender and consent." —The Santa Barbara Independent.

"…provocative and stimulating…humanizes the parties involved and explores the complexities of relationships that many depictions often simplify to the point of distortion. …riveting and entertaining…" —Berkshire Fine Arts Review.