The Hot Wing King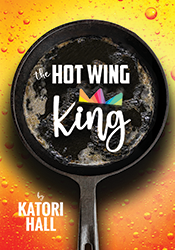 Winner of the 2021 Pulitzer Prize for Drama.

THE STORY: Ready, set, fry! It's time for the annual "Hot Wang Festival" in Memphis, Tennessee, and Cordell Crutchfield knows he has the wings that'll make him king. Supported by his beau Dwayne and their culinary clique, The New Wing Order, Cordell is marinating and firing up his frying pan in a bid to reclaim the crispy crown. When Dwayne takes in his troubled nephew however, it becomes a recipe for disaster. Suddenly, a first place trophy isn't the only thing Cordell risks losing.
"The funny, moving tale of Black gay friends and lovers navigating responsibility and guilt — all while prepping for a hot wing festival — touches on pressing issues such as mental health as well as on the intricacies of Cajun marinade." —Washington Post.

"A funny, deeply felt consideration of Black masculinity and how it is perceived, filtered through the experiences of a loving gay couple and their extended family as they prepare for a culinary competition." — Pulitzer Prize Jury.