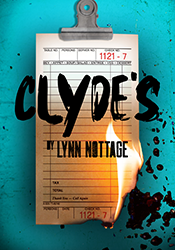 Full Length, Comedy
3 men, 2 women
Total Cast: 5, Flexible Set
ISBN-13: 978-0-8222-4250-5


FEE: $130 per performance. Perusal available in ePub format.
THE STORY: In CLYDE'S, a truck stop sandwich shop offers its formerly incarcerated kitchen staff a shot at redemption. Even as the shop's callous owner tries to keep them under her thumb, the staff members are given purpose and permission to dream by their shared quest to create the perfect sandwich.
"A warm portrait of a family." —New York Theater. "A finger-licking good time with a few stirring insights on the side." —Theatrely. "Flavor-bomb of a new comedy about survival, second chances and digesting whatever life serves up." —Variety.