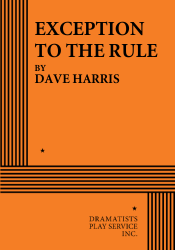 THE STORY: How do you make it through detention? In the worst high school in the city, six Black students are stuck in Room 111. They flirt. They fight. They tease. Should they follow the rules and stay put, or find an escape? Are the walls keeping them in, or are stronger forces at play?
"High-school detention has no business being as entertaining as it is in EXCEPTION TO THE RULE, a terrifically funny and subtly potent play…" —The Wall Street Journal.

"EXCEPTION TO THE RULE is a Breakfast Club for the modern high school—quicker, crasser, and funnier. " —The New York Sun

"…explosive, schadenfreude-inducing, and hilarious…Everyone should see this play…" —New York Theatre Guide.