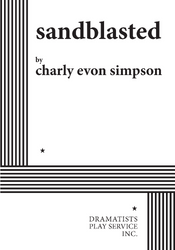 THE STORY: Angela and Odessa are on a sandy search for something that might not be real, but they are determined to make a way out of no way. When they stumble upon Adah—that's right, THE Celebrity-turned-Wellness-Maven Adah—they decide to follow her lead, not knowing that the journey could very well be the cure.
"…powerful…In her satire, Simpson targets both a country hostile to Black women's well-being…and the industries that grow like rust on that hostility." —New York Magazine.

"What would happen if Black women, in response to the neverending sexism and racism they face on a daily basis and all that the world demands of them, literally began to fall apart?…SANDBLASTED [leaves] you with a lot to think about—and maybe even some soul-searching of your own to do." —TheaterMania.

"…alarming…delightful…SANDBLASTED…is equal parts hilarious and terrifying." —Theatrely.