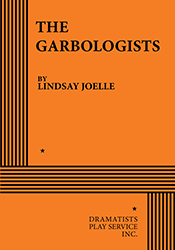 THE STORY: Danny's a white, blue-collar, New York City sanitation worker. Marlowe's the Black, Ivy-educated newbie who just joined his route. Thrown together in the cab of a nineteen-ton garbage truck, they spend their first shifts sparring, one-upping each other, and practicing the secret art of mongo: hunting for discarded treasure. But as their lives become increasingly intertwined, these two essential workers from different worlds discover there's more that binds them than picking up the trash.
"A must see… Joelle's finely crafted play is laced with wit and wisdom." —BroadwayWorld.

"THE GARBOLOGISTS tells a story of how we hold on, let go, and remember—told through things we set out on the curb. Lindsay Joelle's script is delightfully intimate, surprising, and profound, filled with sometimes unexpected laughter and even tears." —onStage Pittsburgh.

"…funny and poignant… a delicacy of a play…" —Evanston RoundTable.

"Exiting playgoers were saying, 'I never knew about any of this stuff.' And that glimpse of an unknown world (one we see every day) is part of the charm… In learning our way through this delightful dramedy, we all become students of garbage. We become Garbologists." —The Philadelphia Inquirer.