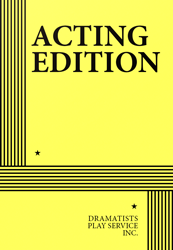 Full Length, Post-Apocalyptic Comedy
3 men, 3 women
Total Cast: 6, Bare stage. A large wagon.
ISBN-13: 978-1-62384-182-9


MIN. PERFORMANCE FEE: $85 per performance.
THE STORY: Post-apocalyptic wilderness was never funnier. Follow the adventures of Zetta Stone, a traveling performer, and her companion Dog (a young man undergoing a voluntary species demotion) as they wander through the former northeastern United States. Zetta, Dog and their little troupe are on their way to a gig in China, assuming they can find it...and survive the journey. A theatrical, darkly comic variation on the classic doomsday genre, with five original songs.