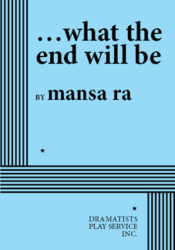 THE STORY: In …what the end will be, three generations of men live under one roof and grapple with their own truths of what it means to be Black and gay. It's an exploration of pride, pain, and patience through the unflinching eyes of fathers and sons.
"In …what the end will be, facing death really means reckoning with life—what makes it worth living despite its impermanence—and learning how to seize some measure of joy for yourself. It's everything that is meant when we say that Black lives matter." —The New York Times.

"Ra's vision of affluent Black gay life is lively and engaging, but that's simply the milieu; this is a play about dying…" —The New Yorker.

"There is an undeniable pleasure in watching the tensions in this unusual family surge and subside." —Wall Street Journal.

"Ra turns this standoff between generations into 90 minutes of provocative (and hilarious) theater." —TheaterMania.